Cross-Country Skiing in Idaho to Escape Into A Winter Wonderland

Access Cross-country Trails From Your Back Door
Ninety miles north of Boise, Idaho, you will find Idaho's newest destination resort, Tamarack. Resting on Lake Cascade's shores, this year-round vacation destination provides visitors an experience to remember with some of the finest lodging options in the area and direct access to groomed Nordic trails. In fact, depending on where you stay, you can literally ski, snowshoe, or fat bike out your back door. The ease of access to the regularly groomed trails that wind through the varied landscapes of this mountain retreat makes for an experience that's likely to take your breath away, but not from the energy you exert on the trail. The views from the open meadows give cross-country skiers, snowshoers, and fat bikers alike a sense of wonder as they look to the frozen lake and valley below or raise their eyes to mountains in the distance. The contrast of a bright blue ski behind peaks of deep greens and stark whites can put so many things in perspective and have many visitors returning year after year.

With regular grooming, this network of paths takes wintertime enthusiasts across quiet meadows, over undulating hills, through groves of trees, and offers plenty of opportunities to explore.
Tamarack Nordic Trail Map
Click here to view the Nordic Grooming Report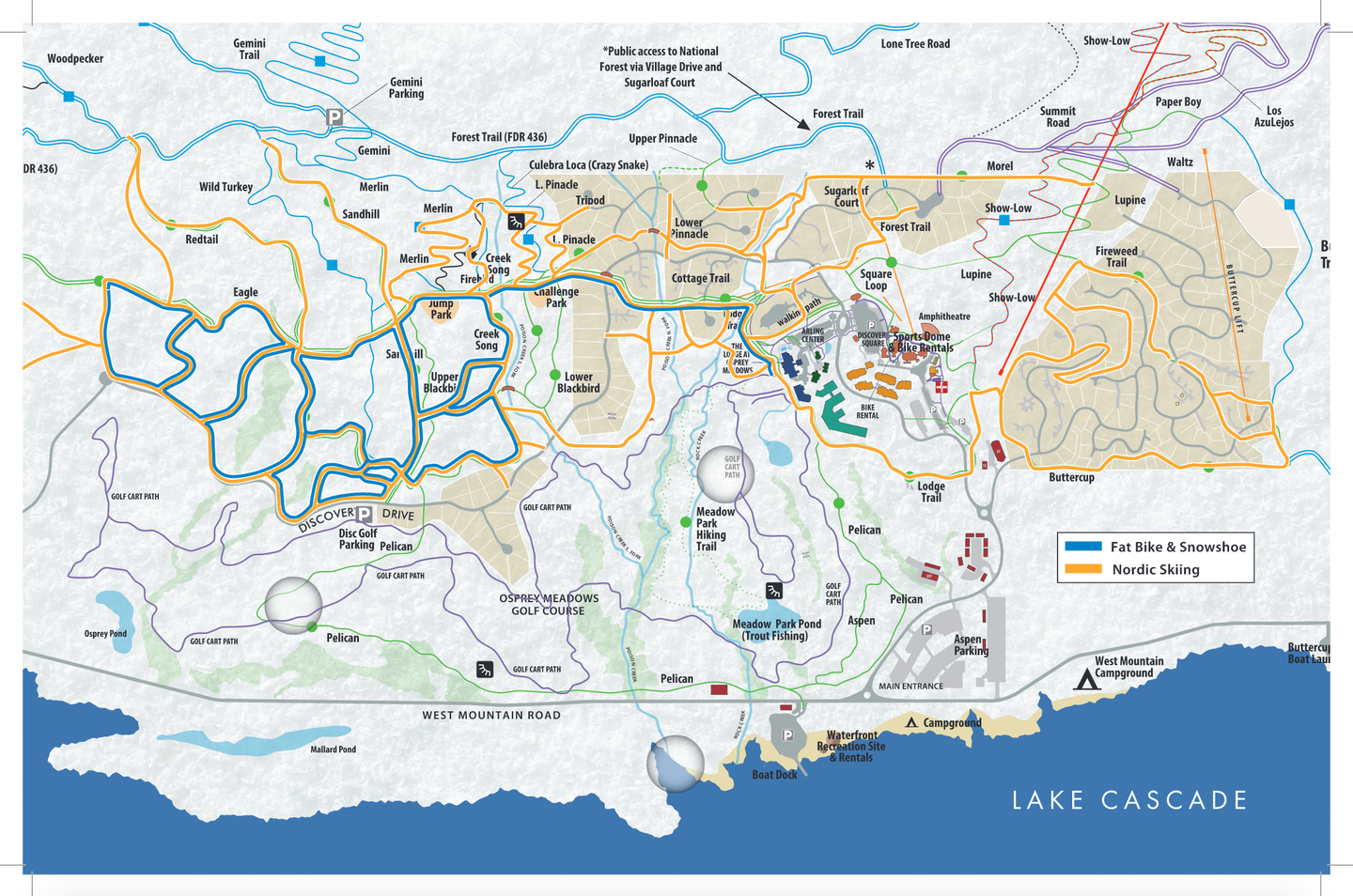 Cross-Country Skiing or Skate Skiing? — Have It Your Way

Whether you're a classic cross-country skier or prefer the challenge of skate skiing, Tamarack's Nordic trail system will leave you wanting for nothing. Regularly groomed, the 25-plus km of trails wind from meadow to meadow through groves of Tamaracks, firs, and Aspens.
There is nothing quite like the rhythmic swish of skis as they glide through groomed tracks or the whisper of skate skis skimming over the snow. With most of the trail system resting on the southern portion of the resort, there a plenty of opportunities to escape into the trees. Some areas are so peaceful and quiet that the only sound you'll hear is your skis gliding over the snow.
The Original Winter Sport — Snowshoeing
The Nordic trail system at Tamarack isn't just for cross-country and skate skiing. If the winter version of hiking is your thing, strap some snowshoes to your feet and take to the groomed trails — or — if you're up for a real physical challenge, you can always head off-trail. While the gear has improved a bit from the first versions of snowshoes dating back 6000 years, the principal has not. Snowshoeing is a fantastic way to explore snow-covered woods.

From beginner to expert, there is something for everyone on Tamarack's trails — you can embrace a leisurely stroll or take to the trees on a heart-pounding journey as you create your own path. Regardless of how hard you do or don't want to work, there is plenty to explore both on and off-trail in the woods surrounding Tamarack Resort. The tranquillity one experiences off the beaten path is unrivalled in this pristine winter landscape.
Fat Biking
Though it started in the 1980s, fat biking has grown in popularity in recent years. A longtime favorite for transportation on warm sandy beaches, these mountain bikes equipped with extra-wide tires are also a great choice for exploring groomed trails.

The under pressurized tires with thick tread provide plenty of traction in snow making it easy to climb the gentle hills. Exploring the woods on a fat bike is an exciting and unique way to experience Tamarack's winter wonderland. Work your way to any of the open meadows for great views, and when you crest a hill, kick the pedaling into overdrive to feel the wind rush past as you descend.
Fat biking is one of the easiest and yet most rewarding ways to explore the trails at Tamarack.
Rentals

Not everyone has cross-country skis, skate skis, snowshoes, or a fat bike at their disposal; even fewer have all four. If you do, wow, you're quite the adventurer. For the rest of us, we may need to rent our gear for a day or weekend on the trails. Luckily, the rental shop at Tamarack Resort has all of the above for rent at reasonable prices. Regardless of your wintertime fancy, the highly trained crew in the rental shop can get you sized, fitted, and ready to explore, be it on skis, snowshoes, or fat bikes.
Do you have kiddos in your crew? No problem. Tamarack has rentals ready for the whole family. It doesn't matter your age or expertise; there is something for everyone at Tamarack Resort.

Conclusion
Any way you slice it, Tamarack has so much to offer snow lovers of all types. Whether you're coming for the day, a weekend, or an extended stay, the lodging and activity options leave nothing to be desired.
Join us and experience the peace and quiet of the Nordic trails at Tamarack — you'll be glad you did.